Ginkgo Petrified Forest State Park
Any Washingtonian worth their basalt has – at one time or another – driven through Vantage during the long drive from Seattle to Spokane. Most of us breeze across the bridge and don't look back as we climb the hills on the opposite side, dodging crawling semis and hoping our radiators don't overheat. But if you're more interested in your journey than your destination, you may have taken the time to visit one of the most unique state parks in all of Washington: Ginkgo Petrified Forest.
Ginkgo Petrified Forest State Park is a 7,470-acre park with year-round camping at Wanapum Recreational Area. The park features 27,000-feet of freshwater shoreline on the Wanapum Reservoir on the Columbia River. Petrified wood was discovered in the region in the early 1930s, which led to creation of the park as a national historic preserve. Ginkgo Petrified Forest is a registered national natural landmark and is regarded as one of the most unusual fossil forests in the world. It also boasts several living Ginkgo trees that were planted sometime in the 1960s.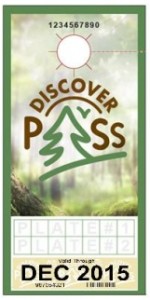 As with all Washington State Parks, you're required to have a Discover Pass if you want to visit. They can be purchased at the park for $10 per day or $30 for the whole year (get the year, it's a way better deal). And you may note that the yellow rear-view mirror tags with receipts folded into them have been replaced by a much more attractive (but unfortunately not smaller) color pass requiring no receipt. Who says government is averse to change?
The Ginkgo Petrified Forest Interpretive Center (admission by donation) offers spectacular views of the Columbia River, Sentinel Gap and surrounding Ice Age flood-carved basalt landscape. Indoor exhibits tell the geologic story of the petrified forest and display one of the most diverse petrified wood collections in North America. Included in that collection is something I recently discovered and coveted almost immediately: the rare (and expensive, as it turns out) Ellensburg Blue Agate.
It's beauty and mystery is what caused famed New York jeweler Tiffany & Co. to buy up a large portion of the supply to use in some of its jewelry. By 1940 or so the most productive agate beds were depleted, making finds rare. Ellensburg Blue Agate is only found near its namesake…Ellensburg, Washington. First discovered by the Kittitas Indians who inhabited the area, they offered only this advice on finding the agates in 1913: "Walk with the sun over your left shoulder." All things considered, your time is probably best spent scouring local jewelry stores who sell raw, polished, and set stones at a wide price range.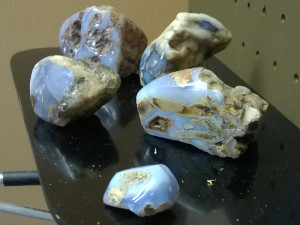 Always wanting to take home souvenirs from my adventures across this great state, I asked the clerk at the Ginkgo Gem Shop outside the park's entrance if they carried any "E-blues" as they're called. She simply laughed at me and explained how rare the precious gems are. She did, however, refer me to the Ellensburg Agate and Bead Shop, which has no website and only a sparsely populated Facebook page but does, apparently, have E-blues in both natural and jewelry settings.
Back to the petrified forest, however…
The Trees of Stone Interpretive Trail, located two miles west of the interpretive center, guides you through an ancient fossil bed with nearly two-dozen petrified logs exposed along this one-mile loop trail. According to the state's website, you also will find "ice-rafted erratics" remaining from Ice Age floodwaters thousands of years ago. I have no idea what that means, but it sounds pretty interesting. Additionally, the Cove Recreation Area – located one-and-a-half miles south of the Wanapum campground – offers a half-mile, self-guided interpretive trail along Johnston Creek. If you're lucky, you might even spot the herd of bighorn sheep that like to wander the wilderness around the park.
And arguably the most interesting aspect of the park is its collection of Columbia River petroglyphs. Like the petroglyphs at Celilo Falls farther downriver, these carved rock pictures were in danger of destruction after the building of the Wanapum dam just west of Vantage. They were cut out and relocated to higher ground, giving future generations the opportunity to commune with peoples of the past.

The whole experience can be done in half an hour, so if you need a break to stretch the legs as you travel across Washington I'd say Ginkgo State Park provides a wonderful opportunity. It's also got clean restrooms, a wonderful little shaded picnic area and amazing photo opportunities.
I'll close by reporting that I recently uncovered a school exam of mine taken in Pacific Northwest History class sometime in the mid 1980's that related to the state park. The question was, "Where in central Washington can you find petroglyphs along the Columbia River?" I put "Vantage" and the teacher marked that as incorrect. "Ginkgo" she had written in red pen besides my answer she'd crossed out. Six of one, half a dozen of the other in my opinion and I maintain that I should have gotten credit for that!
Check out my Flickr photo gallery below or visit my Pinterest page for more.