Who could ask for more than zombies in the old west?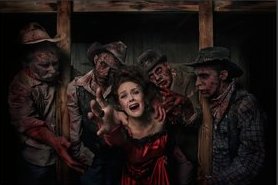 Zombies? Like. Pioneer town? Like. Put the two together? It's a match made in only the greatest nightmares.
"Haunting Ellensburg" is Ellensburg's premier haunted house event, taking place at Frontier Village at the Kittitas Valley Event Center on Fridays and Saturdays from Oct. 10 through Oct. 25.
Guests will be pulled into a horrific version of the Old West as they encounter a fearful village overrun by marauding zombies and flee for their lives from hostile villagers! This professional haunt will be an assault on the senses, featuring elaborate make-up, costumes, sets, lights, sounds, and other effects.
"We've had a lot of fun putting together an Old West-themed haunt, coming up with an engaging storyline and developing scary scenes that relate to each other as the guests move from one scare to the next," according to Eric Slyter, director of the event.
The event also draws on local history with its partnership with the Kittitas County Historical Museum. The Haunting Ellensburg website features information and stories about Kittitas County's own macabre history in the distant (and not-so-distant) past. The event is also being sponsored by local businesses such as The Copy Shop, AAA Wildcat Storage, CakeFYI and Butterfly Sundries, with additional support from the Kittitas County Chamber of Commerce, Downtown Business Association and others.
"The first question most people ask is, 'Is it going to be scary?' We wanted to avoid the type of event where you have Dracula or Freddy Krueger jumping out, or guys in rubber masks and plastic glow-in-the-dark butcher knives," says Slyter. "People have really responded in a very positive way to what we have planned, and we have a lot of excited, talented participants on board!" Haunting Ellensburg is drawing volunteers from Kittitas, Cle Elum and Roslyn in addition to Ellensburg.
The event is produced by Kron, a 501(c)(3) educational non-profit headquartered in Ellensburg which offers fun, engaging programs for kids, youth and families locally as well as throughout the Pacific Northwest. Kron is best known locally for its "Fencing for Fun," "Knight School" and similar programs run through Ellensburg Parks and Recreation. The organization is producing its haunted house as an opportunity to involve kids, youth and members of the community in a fun, engaging and creative performing arts event, who might not otherwise get the chance or have the incentive to participate.
Admission will be $9, though residents should be on the lookout for coupons and ticket giveaways through local partners of the event. Haunting Ellensburg will feature a toned-down version for school-age kids up to the age of 12 from 6-7 p.m. The full effect for ages 13 through adult is planned from 7-9 p.m. Children below school-age are not recommended.
For more information about Haunting Ellensburg and related programming, please contact Eric Slyter at 509-855-1500 or email info@HauntingEllensburg.com.