Washington' only living ghost town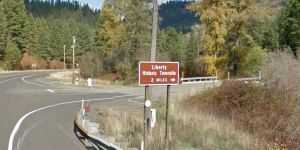 Returning from an overnight trip to Leavenworth (always a must-see if you happen to be in the Wenatchee National Forest), I spotted a sign along US-97 pointing the way toward Liberty, Washington, which billed itself as the only living ghost town in the state. Only two miles off the main road, I decided to take the extra few minutes to check out what Liberty had to offer. What I found was more than I expected.
To begin with, the route from Cle Elum to Leavenworth on US-97 through Blewett Pass is an absolutely beautiful drive; a real idyllic sample of Washington State's beauty. Turning away from the pass and into old mining country gave me a sense of just how rich in history this area was. As I slowed down to take in the view along the two-mile trek, I rolled the windows down and shut off the music to get a sense of what it sounded like. "Clear" would be the best word I could use to describe it.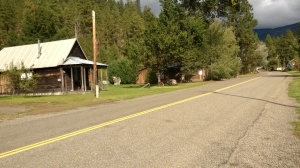 At first sight, Liberty appeared to be just another collection of old buildings along the side of a road nobody uses anymore, but it only took a few seconds before it became clear that it was different. I first drove slowly through town until I reached the far side, which essentially ended in a forest service road entrance. I was a little uneasy at the realization that I hadn't seen a single person on my way through. After all, it was a Friday afternoon.
As I sat at the turnaround I also realized that I hadn't seen any vehicles either. Or animals…no dogs barking or birds chirping. Or movement of any kind. In fact, if it weren't for the colorful American flags atop flagpoles in front of several of the buildings you could have convinced me that the town had either been abandoned and forgotten long ago or I had arrived between performances as if the town were a roadside attraction.
Returning through town, I began to see tiny signs of life that proved there were still residents in these buildings. A few cars were parked around the back of buildings. I spotted an elderly man unloading something from his truck behind his house. One of the historic buildings that now served as a residence was hosting a yard sale, which made me chuckle wondering just how many people likely come through each day.
I stopped at the town circle, which appeared to be roughly the center of town.  Some of the buildings had informational signs near them, so I made my way over to investigate.
Meaghersville – which is was Liberty was called until around 1912 – was a mining town making its living off the gold in Swauk Creek and the nearby hillsides. Liberty was known for its large gold nuggets as most of the placer gold recovered from streams in the Swauk District has been coarse gold. Companies like Gold Placers Inc. had extensive mining operations in Liberty up through the 1960's and a few dedicated miners remain who still have faith in the Swauk deposits and expect to find a mother lode any day now.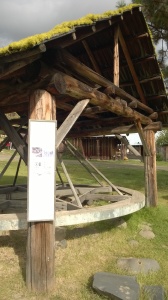 Also in the center of town is a replica of the the Liberty arrastra…possibly the only workable arrastra in the United States and certainly the only one using a horizontal undershot water wheel. The use of such a water wheel appears to have been started by some local pioneer miner in the Liberty area as the design is found nowhere else.
The Liberty arrastra (an ancient mill for pulverizing ores, especially those ores containing gold) was completed in 1976 and is patterned after one that was on the Virden claim about three miles east of Liberty on Williams Creek. Virden's arrastra survived intact until 1976 because he built a structure over it to protect it from the snow in the winter. However, in 1976 it was destroyed by vandals. Other local arrastras fell victim to the weather and very little remains today to illustrate the inventiveness and craftsmanship of Liberty's early miner.
Originally the arrastra was powered by man or animals but as technology developed, water wheels were used where water power was available. However, these water wheels were overshot wheels and required much structure to make them work. A substantial frame was required to support the water wheel in a vertical position and a gear mechanism was needed to turn the vertical shaft that dragged the large stones around in the tub.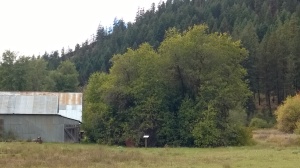 An interesting final note: Liberty happens to also be home to the largest black hawthorn tree in the United States. This particular species of hawthorn was discovered and named by Lewis and Clark during their epic westward trek, and Liberty's "Big Tree" is the largest example.
As I started up the car to return to US-97 and head home I noticed there is creekfront property for sale in Liberty. So for anyone interested in escaping the trappings of suburban life, nestling into the peace and quiet of the lower Wenatchee National Forest and possibly stumbling upon the largest gold discovery in Washington in over a hundred years…Liberty may just be the place for you. Check out and share the photos from Pinterest:
Follow Washington Our Home's board Liberty, WA on Pinterest.