Uncertain future for "American icon"
In December of 1966, the City of Lacey was celebrating its incorporation. The small settlements of Woodland and Chambers Prairie had united to form what was then a bedroom community to nearby Olympia. But just a few months earlier that year, Lacey residents got a chance to attend another celebration, as one of the Northwest's first modern indoor shopping malls opened for business at South Sound Center.
When it opened, anchor tenants included Nordstrom Place Two, Peoples, Sears, and Woolworth. However as Lacey residents well know, Sears is the only remaining original tenant of South Sound Center. One need only place a hand upon Sears' main entrance doors to realize the artisitc styling of a bygone era.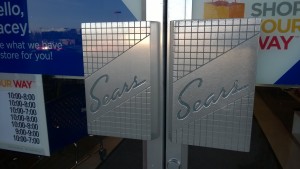 Seattle's Northgate Mall was certainly the first of its kind in Washington as well as one of the first post-war, suburban mall-type shopping centers in the United States when it opened in 1950. In fact, it was the first regional shopping center in the United States to be described as a mall and featured something no other shopping center had…public restrooms.
Fifteen years later, Tacoma Mall opened it's doors for business. In 1968, then-Governor Dan Evans cut the ribbon at the grand opening of Westfield Southcenter (then known as Southcenter Mall) in Tukwila. Olympia's Capital Mall (known as Westfield Capital Mall until 2013 and Westfield Shoppingtown Capital before that) opened nearly a decade later in 1977.
Lacey's place in American consumerist history was secure, but the passing of each year brought the inevitable change. Peoples at South Sound Center closed in 1983 and reopened as Mervyns a year later (and closed again in 2006). Nordstrom Place Two closed in 1994. Woolworth shuttered all of its Washington State stores in 1997, leaving what was once billed as the fourth regional shopping center in Washington to an uncertain future.
In 2001, the final remnants of what made South Sound Center so unique – namely its indoor shopping area – was torn down to make way for a new anchor tenant, Target. When Kohl's opened in the old Mervyns space, it completed the mall's reinvention as the outdoor shopping center we all patronize today.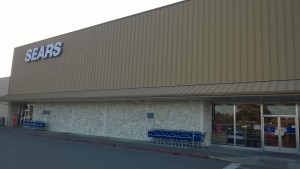 As a national brand and (arguably) an American icon, Sears' future is also in doubt. Rumors of the company's demise have been circulating for years and visitors to any of its locations today will quickly get the sense that too many cuts have been made to stay in business much longer.
However in 2016, the Sears building at South Sound Center will reach its 50th anniversary and become eligible for placement on the city's registry of historic buildings. As we welcome the new year, we can only wonder if Lacey's mid-century marvel will make it.