The Columbia Gorge has a north side, too
Believe it or not, there are actually people who don't know the Columbia River has another side.
Some of those folks have admitted as much to Earlene Sullivan, Executive Director at the Greater Goldendale Area Chamber of Commerce, who unfortunately understands the sentiment. Interstate 84, the fastest way to get inland from the sprawling, urban metropolis of Portland, zips along the northern border of Oregon…the south side of the Columbia River. Many a Pacific Northwesterner are familiar with attractions like Multnomah Falls, Vista House, and Rooster Rock State Park, as well as the cities of Hood River and The Dalles.
If getting from Point A to Point B as quickly as possible is your goal, I-84 serves its purpose. But for those who seek the scenic routes, who want to experience the twisting landscapes of Klickitat County and discover something previously unknown about the communities that dot the great river's north side, I'd suggest the Lewis and Clark Trail Highway – otherwise known as Washington State Route 14.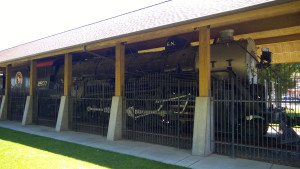 How many can say they've spent a night in a 110-year-old railroad hotel in Lyle, stood in awe at the massive size of a fully-restored Great Northern Railway engine in Wishram or stared into the mystical eyes of She Who Watches at Horsethief Lake?
Likely very few of the I-84 travelers, I imagine.
KICKING AROUND KLICKITAT COUNTY
One of the first places any history buff should see when traveling the Washington side of the Columbia River Gorge are the ancient petroglyphs and petrographs in Columbia Hills State Park. A petroglyph is a carving or inscription on rock. It is an image created by removing portions of the rock face by pecking, grinding or scraping with another object. Time and the elements are unlikely to erase a petroglyph from existence. A petrograph, on the other hand, is an image or symbol painted onto a rock surface and has a much lower chance of standing the tests of time.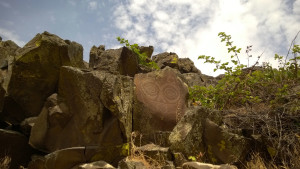 Those specimens found at Horsethief Lake, which is actually an impoundment of the Columbia River, are hundreds of years old, at least. There was a Native American village nestled near Celilo Falls, where inhabitants hunted game, caught salmon and carved images into the nearby rocks along the river. Then, in 1957, the U.S. Army Corps of Engineers completed work on the Dalles Dam and the resulting backup flooded both the village and Celilo Falls.
Fortunately, before losing the works of art forever, many of the petroglyphs were carefully removed and stored for decades before finally being put back on display in their natural habitat. You can some of them from the parking lot at Horsethief Lake, but to truly experience the more ornate, original carvings you have to take a guided hike with a park ranger. Guided tours of the pictographs and petroglyphs begin at 10 a.m. on Fridays and Saturdays, April through October, and reservations are required. To make a reservation, call the park office at 509-439-9032. (See my gallery of petroglyph photos on Flickr.)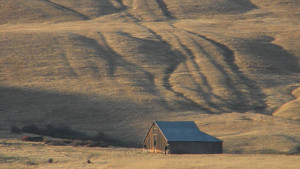 Another historic opportunity for visitors is to take the annual Military Road Tour put on by the Klickitat County Historical Society. History buffs can ride comfortably in air-conditioned busses and be chauffeured on a tour that starts at the Presby Museum and follows the 160-year-old wagon road to the top of the Columbia Hills, a place called "Happy Home" near Warwick which served as the first stop of the old stagecoach line in the valley. There you can still see the wagon ruts coming down the hillside where the stagecoach would bring Columbia River travelers.
After a stop for lunch in Centerville (site of a rare round barn that's on the state's Heritage Barn Register), the tour continues to a tiny community called Blockhouse, where in the 1850s the military constructed, well…a blockhouse to protect settlers from Indian skirmishes. The tour also visits the Spring Creek pioneer cemetery and ends up in the Simcoe Mountains at a monument to the first Indian Agent east of the Cascades, a man named Andrew J. Bolon, who was murdered by Native Americans in 1855. The third annual Military Road Tour is Saturday, September 19, from 10 a.m. to 4 p.m. For additional information and to register, contact the Presby Museum at 509-773-4303. Space is limited.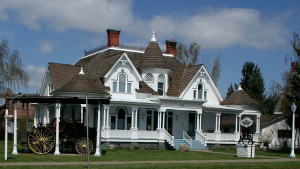 Speaking of the Presby Museum, no heritage tour through Klickitat County would be complete without a stop at this 113-year-old mansion. Wonderfully restored and stocked with a huge variety of both interesting artifacts and historic records for research purposes, the Presby Museum began as a private mansion belonging to attorney W.B. Presby, who had the three-story, 22-room house built for an estimated cost of $8,000 in 1902. There are four fireplaces centered around two chimneys, and feature ornately carved wood mantles and ceramic tile…at least one of which is suspected to be the original tile first laid in 1902.
After being sold by the Presbys, the house went through a period as a boarding house for school teachers and railway workers. In July, 1962, the Klickitat County Historical Society – organized in 1958 – purchased the Presby House for $12,000. When the museum was dedicated on August 18, 1962, United States Supreme Court Justice William O. Douglas delivered the keynote address.
Since that time, the museum has added two additional buildings to display collections. The Annex houses the actual Goldendale Sentinel's 1878 print shop and collections from early Goldendale businesses and the Goldendale Railway Station. In 2002, the museum added the Carriage and School House to display antique farm equipment and a reproduction of a one-room school house.
Filled with treasures from across the ages and highlighting Klickitat County's unique contributions to Washington and U.S. history, the Presby Museum is a must-see for any heritage traveler in Goldendale.
If century-old houses are your interest and you happen to be hungry, be sure to stop by The Glass Onion. The restaurant is set in a 1902 Victorian home that was renovated in 2007. The name "glass onion" is an English term for a monocle (think Burgess Meredith's Penguin circa 1960's Batman) and the name of a song on the Beatles White Album.
The food is probably the finest gourmet you'll find in Goldendale, and very reasonably priced. The restored Victorian is beautifully decorated and the owners support the community by purchasing from local farmers, supporting local organizations,  and participating in local events. They also provide cooking art classes as well as offer a gallery space for local artists.
Another great venue for Klickitat County artists is the annual Community Days celebration, which just wrapped up in early July. It's four days of farmers markets, go-karts, book sales, bouncy houses, live music, beer and wine tasting, food-sampling, car shows, and more, culminating in a parade and demolition derby. Impossible not to enjoy yourself during this fun-filled event!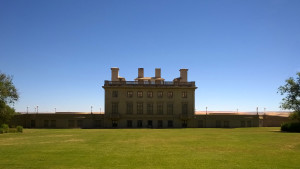 About 10 minutes south of Goldendale is another of Washington's better-kept secrets. The Maryhill Museum of Art. A seamless blend of Washington State history, heritage and culture, the Maryhill Museum delights in a way that not many other destinations can. So where to begin?
Let's start with the history. Ever heard the expression, "What in the Sam Hill is going on?" Turns out it's not a reference to the businessman and transportation advocate who founded Maryhill in 1907. Samuel Hill was a lawyer, railroad executive – millionaire in the late 1800s – and advocate of good roads in the Pacific Northwest. He substantially influenced the region's economic development in the early 20th century.
In 1907, Samuel Hill purchased 5,300 acres of land along the Columbia River with the dream of establishing a Quaker farming community. He formed the Maryhill Land Company, named after his daughter, and set about building a town. The village included a store and post office, a Quaker church, an inn, a blacksmith's shop and a stable.
In 1914, work began on a hilltop mansion that was to be Hill's home. But the remote location of Maryhill and the lack of irrigation proved insurmountable obstacles and the land company failed. Construction of Hill's mansion stopped in 1917. Fortunately, Hill had more than a few influential friends.
One of those was the dance pioneer, Loïe Fuller, who suggested that he turn his would-be mansion into an art museum. Because she was well connected with France's art scene, she helped populate the museum with paintings and sculptures, including more than 80 works by French sculptor, Auguste Rodin. (See my gallery of Maryhill art and sculpture photos on Flickr.)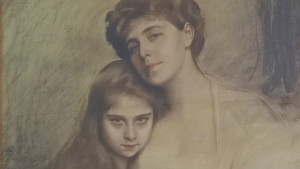 Another friend of Hill's was Queen Marie of Romania, who dedicated the museum in 1926. She was the granddaughter of Britain's Queen Victoria, and the museum dedication ceremony was attended by more than 2,000 people. There are dozens of artifacts at the museum that came from that period, including a 1911 portrait of the queen and her daughter, furniture and even a set of crown jewels.
Hill was known as a transportation advocate because he founded the Good Roads Association which convinced the Legislature to create the Washington Highways Department…what we know today as the Department of Transportation. He also tried (and failed) to get the Legislature to build a cross-state highway along the Columbia River. So instead, he convinced the Oregon Legislature to do it, creating what is now Interstate 84.
In 1931, Hill – on his way to address the Oregon legislature on behalf of the Good Roads Association – became ill and died three weeks later at the age of 73. Though he never saw his museum open to the public, the wife of San Francisco sugar magnate Adolf Spreckels, Alma de Bretteville Spreckles (another friend of Hill's) took up the task of finishing the museum. Under her guidance, the museum was opened to the public on Sam Hill's birthday, May 13, 1940.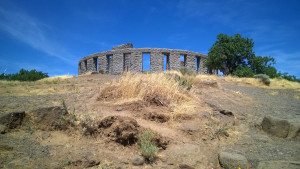 Hill is buried a short distance from Maryhill, on a hillside overlooking the Columbia Gorge. In fact, one of his more odd-but-lasting monuments stands guard over his final resting place. Just about a mile east of Maryhill is a replica of Britain's Stonehenge prehistoric site, which Hill constructed as a place to honor Washington State's and Klickitat County's dead after World War I. It's a serene place, only occasionally frequented by travelers, and the short hike down to Hill's gravesite will provide a nice bit of solace for reflection if that's what you're looking for. Why he chose to replicate Stonehenge, I don't think anyone knows for sure.
So there you have it…just a sampling of the many, many unique and wonderful things to experience on the north side of the Columbia Gorge. If you find yourself traveling that way, perhaps consider taking the slower, more interesting route. You may discover something amazing on your own…and if not, there's always the beautiful and lively Maryhill Winery to make your trip worthwhile!