Spending National Trails Day at Sahara Creek/Nicholson Horse Trail System
Several weeks ago, I spotted a Facebook post from the Washington State Department of Natural Resources which invited any and all participants to volunteer with trail repair and maintenance. Being that I was in need of some good, old-fashioned dirty, wet and muddy outdoor time I decided to sign up. I checked out the various locations in which DNR needed volunteers and decide that Sahara Creek/Nicholson Horse Trail System would be a great place for me to volunteer. I know it's primarily for horse riders, but it's also a campground and – since it's right on the edge of Mt. Rainier National Park – I wanted to see if it would be appropriate for me to take Kelly and Parker someday.
There were a few other opportunities that were closer, such as Capitol State Forest, but I thought that area would be packed since it was so close to town. Since I've been up to Pack Forest on the way to Mt. Rainier and Sahara Creek wasn't that much further, that was my chosen location. The information online said the volunteer day lasted from 8 am to 4 pm, and the area is about an hour and 20 minutes from my house. True to form, the call of the wild usually comes in the wee hours of the morning.
Let me take a quick detour to explain the differences between a state park, state forest, national park, and national forest. I used to always get them confused, especially since they often border each other and in some cases overlap. The easiest way to keep them separated in your mind is to remember that some government agencies put emphasis on the natural beauty while others put emphasis on the commodities therein. National forests are managed by the US Department of Agriculture (via the US Forest Service) because timber is considered a crop, just like corn or wheat. National parks are managed by the US Department of the Interior (via the National Park Service) and are set aside as "untouchable" natural areas. Similarly, state forests (at least in Washington) are managed by the state Department of Natural Resources while state parks are managed by the Washington State Parks and Recreation Commission. There's a little something to impress your friends with at parties.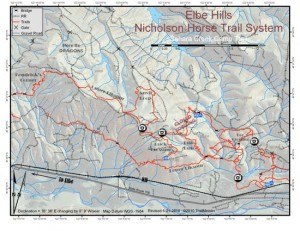 I was a little hesitant about the long drive to an unknown wilderness area in our families Nissan Quest minivan, as it's not exactly known for its successes in the off-road department. However I remained committed to honoring the National Trails Day event, volunteering for the betterment of our beloved state and yes, gathering material for the future blog entry that you're reading right now. Also, as I later found out, 24 hours of volunteer service at state parks or other natural areas can get you the coveted Discover Pass that grants you fee-free access to all the state's otherwise costly natural areas. Actually, I remember when the Discover Pass bill was passed in the Legislature and they hung the volunteer amendment on specifically to dissuade the argument that forcing people to pay for state park access would discriminate against the "economically-challenged."
After nearly an hour and a half of beautiful driving that took me through the Nisqually Indian Reservation, Yelm, McKenna, LaGrande, Alder, and finally Elbe, during which I was lucky enough to spot three young deer meandering along the highway and a bald eagle soaring low over Alder Lake, I finally arrived right on time at the camp entrance. I made my way to the growing collection of cars, found a place to park and headed over to the sheltered picnic area where the small crowd had gathered.
One of the first things I noticed was that nearly everyone already knew each other. It seems they had been on these types of trail enhancement excursions before, so I was clearly the odd man out. But the folks were extremely friendly and struck up conversations with me almost immediately. That – along with the free coffee and donuts – put them in a good place in my book. I quickly learned that all of them were horse enthusiasts who frequented the trails in and around Elbe hills. The event was actually sponsored by the Pierce County Chapter of the Back Country Horsemen of Washington, a nicer collection of folks you'd be hard pressed to find anywhere. My only knowledge of this organization, however, was that I used to write for the senator who represents that area of Pierce County and happens to also be affiliated with the PCCBCHW. I know it's tacky, but I dropped Senator Randi Becker's name pretty quickly once the questions started coming. It seemed lots of folks wanted to know who I was with, what I was doing there and just what would motivate a non-horse person to come volunteer to clean up horse trails in the middle of a Washington State forest.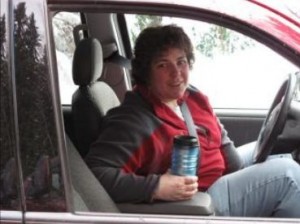 After the coffee, donuts and safety briefing, I was introduced to Nancy Barker with the Department of Natural Resources. A very nice woman, she arrived in a red pickup truck clearly ready to get her hands dirty (along with the rest of her, as we soon discovered). Some of the volunteers were going to take their horses and clear certain trails of overhanging brush, while others were going to lay gravel along different trails. One group was going to clear a trail for an upcoming Wounded Warrior horseback ride and I asked if I could help with that, but was told that group would be mounted as they cleared brush so I wouldn't be able to help. Nancy asked me what I'd like to do and since I was a volunteer there too help, I told her I'd do whatever she needed done.
I ended up with Nancy's group, which was going to install drain dips and waterbars (don't feel bad, I had to look it up too). First task was the divvying up of tools. Nancy asked me which tool I'd like to use among the selection of shovels, hoes and and what looked like a combination axe-pick-hoe. I later learned that it was called a Pulaski and without hesitation I pointed to the Pulaski, easily the most badass-looking tool in the truck. Nancy wondered aloud why all the new volunteers always pick the Pulaski, and a  seasoned volunteer immediately replied that they usually only do it once. I had a feeling I was in for some hard labor, and I was right.
Not wanting to take my minivan on unpaved logging roads, I hitched a ride to the trailhead (some 15 minutes away) with Cathy and Greg, two avid horse enthusiasts and nature/outdoor lovers who were more than happy to share their experiences in the Elbe hills with me as we drove. Greg shared with me his astonishment that most of the ridges in the Elbe hills area were unnamed, and of course I directed him to my recent blog post with instructions on how ordinary folks like us can submit name suggestions for our state's natural features and landmarks.
After driving as far as we could before the road became intentionally blocked with downed trees and deep trenches, we parked, suited up and followed Nancy for about a half-mile on foot, at one point crossing a fairly wide creek. By the time we arrived at our destination the rain had begun to fall and we all donned our rain gear. Nancy explained that we had approximately 10 locations up the trail that needed drain dips or waterbars. The waterbar locations had preconditioned logs sitting trailside that were waiting for us to install. We split our ten-member group into two teams…Cathy, me, and an uncle-nephew pair, Rory and Jason, made up the first team and Nancy, Greg, and two more folks whose names escape me made up the other.
Each spot on the trail was marked with a hot pink ribbon which indicated whether the location required a waterbar or a drain dip. Our team ended up installing a majority of the waterbars along that particular horse trail, which began with a short but energetic demonstration of my burgeoning Pulaski skills. After the ground was broken up, the shovels would move the dirt. But first…the hoes! Okay, the short version is we'd dig a trench at a rough 45-degree angle to the trail, drop the prepared log into it, then fill the dirt back into the trench and over the log, with the uphill side of the log having a lower plane than the downhill side. That allows water flowing down the trail to hit the log and be diverted off to the side.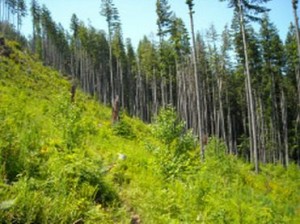 It was fairly grueling labor and we had to pause frequently to take breaks, regain our breath, drink copious amounts of water, and repeatedly change into and out of our rain gear as the weather dictated. Finishing slightly ahead of schedule, we decided to take a different trail back to the trucks since it was slated for repair in the coming weeks anyway. Might as well kill two birds with one stone, right? Trouble was, the second trail was much more narrow and significantly more muddy than the first. By the time we had worked our way through and back to the trucks, I was covered in mud nearly to my waist.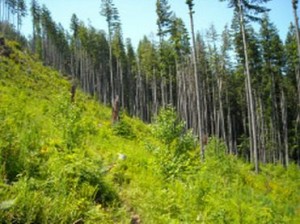 Now it was 12:45 pm and we were worried that there might not be enough lunch waiting for us back at camp. Boy, were we wrong. Once we arrived, the food was hot, plentiful and delicious. Thanks to the Pierce County Chapter of the Back Country Horsemen of Washington for their generosity and delightful spirit. I'd happily volunteer with their group again anytime. My thanks to Nancy Barker with the Department of Natural Resources as well. Her guidance and cheerful spirit conveyed to me her love of her work, a feeling of everyday satisfaction that I can only relate to on my best days.
After saying my goodbyes and passing around my website address, I was headed back home with a belly full of spaghetti and meatballs, a volunteer credit good toward a free Discover Pass here in wonderful Washington State and an ache in my muscles and a smile on my face that can only come from good, old-fashioned hard work for a great cause.