Sailors, Scavengers and Souvenirs
On the morning of Friday, March 13, 2015, the bones of Washington's most well-known ferry were picked clean. Kalakala supporters who desperately searched for years for a way to save the prodigious icon could finally relegate their desire to restore the grand ship to the what-could-have-been. And history buffs longing to claim a piece of her for their own could finally do so, for as little as ten bucks.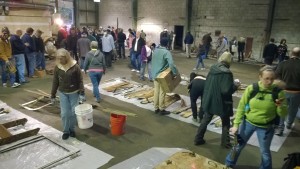 I couldn't help wondering if we were saviors or scavengers.
At first, the scene looked like any other estate sale. Without a second thought about the one who had passed, resellers and artifact-hunters clambered to get first dibs on a hatch, or a door, or a railing, or set of stairs. The image of beetles and flies finishing off a carcass even briefly entered my mind. But the more I listened to the conversations going on around me in the enormous and ever-growing checkout line, the more I began to see that those who showed up early we here to honor the old matriarch, not pound nails into her coffin.
Like me, many of these folks were eager for a tactile historical experience. Some were talking about the fond memories they had as children, recalling standing on the bow of the passenger deck with their arms outstretched like the cliché scene from an oft-quoted movie. Others talked about having worked for the ferry system all those years ago, and remembered seeing the Kalakala pass by on the routes that crisscrossed the Sound.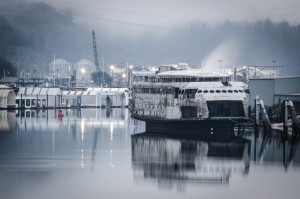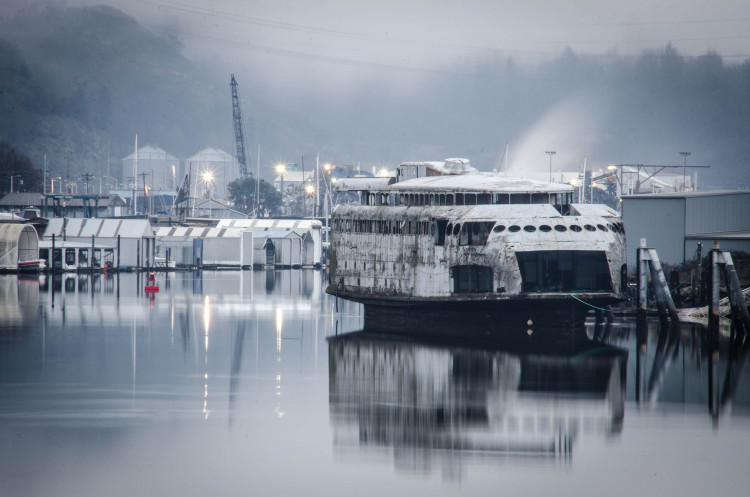 Still others, myself included, recognized the importance of such a unique and wonderful icon to Washington state history. As memorable as the narrows bridge or the space needle, the Kalakala will forever be remembered as the art deco flagship of a world-renown ferry system; a tough old gal who lived past her prime but met her end with dignity and grace. Still afloat.
The newspaper reported all the Kalakala items had sold out in just over an hour. But I, too, got my small token to keep the Kalakala in my thoughts from time to time.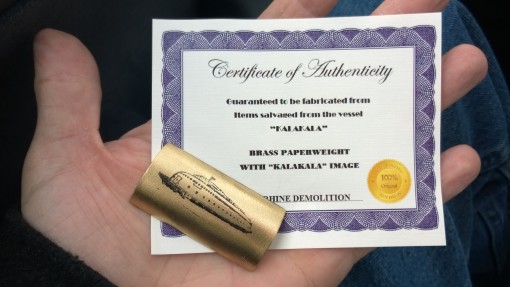 Click any of these images to see a gallery on Flickr.