Port Ludlow: From industry to opportunity
When most folks want to unplug for a weekend, they are often disappointed to find that their secret hideaway has suddenly become everyone else's destination hot-spot. Many of Washington's smaller beach communities can end up crawling with tourists during the busy season…good for their local economy, sure, but the bane of travelers looking for peace and quiet. However, a few places still remain where individuals, couples and families can find a safe harbor away from both day-to-day responsibilities and crowded restaurants. One of those places is Port Ludlow on the Olympic Peninsula.
Where, you may ask? Even the most knowledgeable Washington native may not be aware of this hidden gem just north of the Hood Canal Bridge. Scattered among half a dozen other notable port towns in the area, Port Ludlow is unique because of what it once was and what it has since become. And while many a western Washingtonian is hurriedly on their way to Port Townsend or Port Angeles for some R-and-R, Port Ludlow offers nature, history, art, culture, and dining, all in a wonderfully secluded environment.
In 1841, American Navy Lieutenant Charles Wilkes of the U.S. Exploring Expedition – a scientific surveying endeavor ordered by President John Quincy Adams in 1828 – sailed through Washington's protected waters naming (and often renaming) various bays and inlets. Port Ludlow is named for Augustus Ludlow, a naval hero in the War of 1812.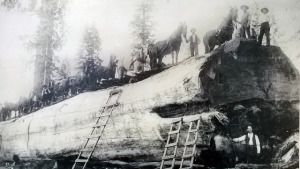 It wasn't long before American settlers began harvesting the rich timber resources found on the Olympic Peninsula, and two such entrepreneurial settlers – John Thorndike and W.P. Sayward – built the first sawmill on the point of Port Ludlow in the early 1850s. A visit to any of the Jefferson County Historical Society museums will reveal evidence of just how rich the area's timber resources really were, and the mill changed ownership between four different companies before it closed in the mid-1930s. By 1955, Port Ludlow's population had dropped to just 10 people.
But fast-forward to today and you'll find a census designated place that has reinvented itself for the 21st Century. Boasting a comfortable population of just over 2,500, Port Ludlow's reputation as a getaway destination is only just beginning. Anchoring this recreational revival is The Resort at Port Ludlow, a three-story waterfront bed-and-breakfast style inn that was inspired by New England's classic coastal summer homes.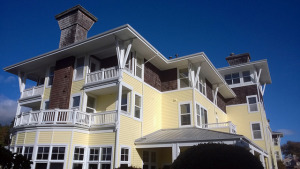 In addition to the standard expected amenities, The Resort's 37 suites feature gas fireplaces, cozy sitting areas, jetted tubs, and second-floor balconies overlooking spectacular water and mountain views. And for those fearing a lack of activities to occupy the time that would be better spent relaxing, The Resort also features a spectacular restaurant and one of the most beautiful 18-hole championship golf courses in the Pacific Northwest.
For those who love historical recreation, the most captivating feature of The Resort's acreage is a large, round seawall at the end of the point. Adorned with several trees and a totem pole depicting the history of the property – which is built on the site of the former sawmill – the circular grass-covered park is actually the base of what used to be the mill's cone burner nearly a century ago. Also known as a wigwam or teepee burner, the metal smokestack was used to dispose of unusable lumber scraps and likely saw a great deal of use throughout Port Ludlow's early existence.
Add that to the list of reasons Port Ludlow and The Resort should top your list of local vacation destinations, and you've got a recipe for a charming and memorable experience unlike any other. As the sign says as it welcomes you to town…come for the day and stay for the lifestyle.