Paving over history at old Fort Steilacoom
Earlier this week I became aware of a plan to pave over part of the parade grounds at old Fort Steilacoom in Lakewood. The property belongs to Western State Hospital – itself an icon of Washington State History – and the hospital is managed by the state Department of Social and Health Services. Through my work with 28th District State Senator Mike Carrell, R-Lakewood, who represents the district in which the property is located, I discovered that DSHS had proposed expanding the employee parking lot by paving over the fort's historic parade grounds.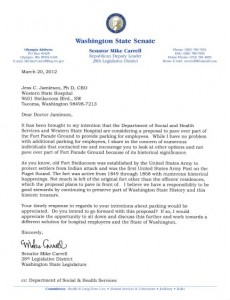 Senator Carrell, likewise a state history buff, wrote a letter to Western State Hospital CEO Jess Jamieson asking that other alternatives be explored before permanently destroying such a meaningful part of our state's identity. After all, Fort Steilacoom was established by the United States Army in 1849 to help protect settlers from Indian attacks.
One of the first cross-state roads in Washington (then Washington Territory) was a military road stretching from Fort Walla Walla to Fort Steilacoom, then the first US Army settlement on the Puget Sound. Thousands of troops were reviewed by their commanding officers on those parade grounds during the fort's active years until 1868.
Then, in today's Tacoma News Tribune, came a reprieve for Fort Steilacoom in the form of an article by Peter Callahan. In it, Callahan explains that Carrell's efforts – along with the efforts of dozens of other area residents and historical preservationists – were successful in staving off the plan to pave over the parade grounds.
In his historic assessment, Michael Sullivan of Artifacts Consulting called the hospital campus "one of our state's most significant cultural resources." It was an important Native American site, a center for Hudson Bay Co. farming, an American Army outpost and then a mental hospital.

As a fort from 1849 to 1868 (historicfortsteilacoom.com) it was the first presence of the federal government in the territory that would become Washington state. Ulysses S. Grant served there. So did George E. Pickett, Philip H. Sheridan and George B. McClellan.

It was where settlers sought safety during the Indian Wars of 1855-56. It was where Chief Leschi was imprisoned for killing a U.S. colonel during those battles (Army officers, however, thought his conviction unjust and would not permit his hanging inside the grounds).

"The parade grounds are the essential organizing feature of these pre-Civil War cavalry posts," Sullivan said. "Assembly, drilling, mustering, training, ceremonies. Everything happens in the parade grounds."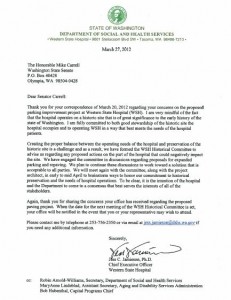 Coincidentally, the same day Callahan's article ran in the paper Senator Carrell received a return letter from WSH CEO Jess Jamieson. In it, Jamieson states that he's mindful of the hospital's history and state significance (I'd argue that it has national significance, given the names of those who have served within its borders stated above) and that he's chosen instead to form a WSH Historical Committee to advise him of any potentially negative impact to the site from proposed changes.
Bob Hubenthal, chief of the DSHS Office of Capital Programs, said he received a call from Western State Hospital asking that the scope for the proposed paving improvements project be focused instead on pedestrian safety improvements and repairing deteriorated paving across the campus. As a result, they were not seeking any additional parking in the vicinity of the Main Building and no new paving would be proposed in the historical parade grounds.
In Senator Carrell's e-newsetter to constituents, he thanks a number of individuals who were instrumental in protecting the old fort's property and states that it's nice to see something like this resolved so quickly and amicably. I couldn't agree more.