More than just parks: Olympic National Park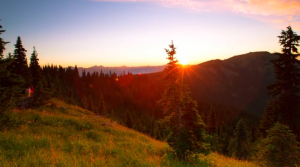 I got an e-mail recently from a team of brothers who are traveling around the country documenting the wondrous scenery of America's 59 National Parks. Their first stop? Right here in Washington, in one of my favorite places…Olympic National Park.
Their video is a culmination of a month's time spent videoing some of the most incredible parts of Olympic National Park. It's a dazzling 4 minute short film that takes the viewer on a visually stunning journey through the park. On the video there is no narration, no wildlife shots (save for a few hikers on the trails) and no indication as to where in the park the different shots are located.
In that sense, the film by Jim and Will Pattiz provides a sort of treasure map to viewers who would need to search for and discover their own special destinations when visiting Olympic National Park. Only on their website do they reveal the general locations where they captured their shots. And with so much natural beauty to be found, everyone who comes to Olympic National park will leave with something valuable. This film provides a short glimpse into what that is.
The Pattiz brothers, who can be found at www.morethanjustparks.com, plan to create short films for each of the 59 US National Parks to give people a unique viewing experience. They hope their videos will encourage folks to get out there and have a one-of-a-kind experience of their own in our national parks, as well as help build a greater awareness for all of the breathtaking natural wonders protected by our national parks system.
Please visit their website, read about their mission and donate to help if you feel so inclined.