The Nuclear Reactor Building is an exceptional example of Brutalist design from the Mid-century Modern era and the ideals that drove the Modern movement. Designed by renowned architects of the time, the building's design promotes technology and rejects the conventional academic architecture surrounding it. It is a completely unique structure, and represents a specific time and way of thinking in the history of the University, and the overarching history of nuclear power. Even after standing empty for many years, the structure still speaks of the heroic aspirations of Modern architecture and its association with technological development and moving ever forward into the future.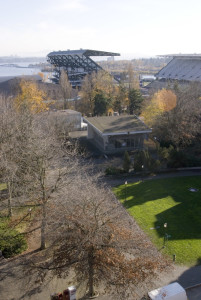 In October, the Washington Trust for Historic Preservation (of which I serve on the board of directors) sent out an Advocacy Alert letting folks know the University of Washington had released a Draft Supplemental Environmental Impact Statement (SEIS) with a preferred alternative that calls for the demolition of the Nuclear Reactor Building.
The Draft SEIS for the proposed construction of the new Computer Science and Engineering Building II (CSE II) at the UW details several scenarios; the options listed in the document are as follows:
The "preferred alternative" results in the demolition of the significant National Register-listed Nuclear Reactor Building for the construction of CSE II.
A second alternative shows the new construction engulfing the Nuclear Reactor Building—a concept that fails to meet the Secretary of the Interior's Standards for Rehabilitation.
A third alternative offers a different nearby site for CSE II, an open space just south of the University of Washington Club.
The fourth alternative is to take no action (this is standard in all environmental impact statements).
Comments on the Draft SEIS are due Monday, November 23, in less than a week. We are asking you to voice your support for finding a meaningful preservation alternative for the Nuclear Reactor Building. Let the University know that:
demolition of the Nuclear Reactor Building should not be an option,
any construction on the site that incorporates the existing building should respect its historic character, and
alternative sites should be more thoroughly examined.
Please send your comments about the Draft SEIS by Monday, November 23 via mail or email to:
Jan Arntz • jarntz@uw.edu
SEPA Responsible Official
Environmental/Land Use Compliance Officer
Capital Projects Office
Box 352205
Seattle, WA 98195
The Washington Trust would like to take this opportunity to announce their partnership with Historic Seattle and Docomomo WEWA on a collaborative campaign called Save the Reactor. Please visit the website at: savethereactor.org. We have compiled a list of talking points you may be interested in addressing in your comments to the UW in support of the Nuclear Reactor Building.
We invite you to click the images below to browse savethereactor.org and learn more about the building's history, significance, and advocacy efforts to save it. Most importantly, we want you to get involved! Tell the University of Washington it can do better, and must do better.