Ft. Eaton, and the Indian War of 1856
We're leaving for Carmel, California, tomorow to spend Christmas with my inlaws. My job today, besides packing and cleaning house, was to drop the dog off at the boarding facility. Living in Lacey, we board her at Northwind Kennels, which is just a short drive southeast on the Yelm Highway from our house. On the way, I drove past a small, brown sign that read, "Historical Marker" with an arrow pointing left. I made a mental note…check out the historical marker on the way back.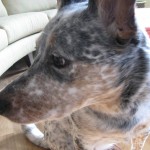 After a quick goodbye to our seven-year-old Blue Heeler mix, Kala, I began the short return trip to the house. Very soon after, I saw it again. "Historical Marker," this time with the arrow pointing right. It snuck right up on me because the speed limit on that stretch of Yelm Highway is 50 miles per hour and there was no room to even second guess your destination. Fortunately, there wasn't anyone behind me and I was able to quickly pull off the road to check it out.
It's funny, but in the five and a half years we've lived here, I must have driven that stretch of Yelm Highway two or three dozen times. I can't remember ever noticing the sign before, and this was the first opportunity I'd had to really take a look at it.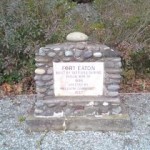 The pullout is nothing more than a 50-foot wide spot in the road, and as I said if you're going by at 50 mph it'll pass by in the blink of an eye. The first thing I noticed upon pulling over was that it was surrounded on three sides by private property. It wasn't the suburbs mind you, but it was definitely in active, everyday use. I made my way up the short stairway to the aforementioned historical marker, a stone and concrete structure about three feet high that resembled a headstone. I've seen countless "historical markers" in my short 36 years, and most of them commemorate a battle or other significant event. This one, however, was the former site of Fort Eaton – a small civilian outpost created to help ward off Indian attacks during the war of 1856.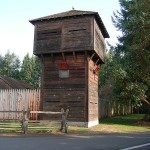 Now sometimes when you visit the site of a historical fort, you're treated to a replication of the actual bastion itself. Take Fort Nisqually at Point Defiance in Ruston for example. It's a real living replica of the original Fort Nisqually that was originally located near what is now DuPont, Washington. This historical marker that I was now staring at was nothing like the Point Defiance site. What I was standing before was a concrete headstone with a short message, and a very old, yet-to-be-identified tree.
"Fort Eaton. Built by settlers during the Indian War of 1856. Erected by Freedom Community 1932."
I thought to myself that I'd have to do more research when I got home to find out about this Indian War of 1856. After all, it's an integral part of Washington State history that I know nothing about. As it turns out, there's quite a bit of interesting history here. From Wikipedia:
"The catalyst of the war was the Treaty of Medicine Creek of 1854.Negotiated by Washington Territory Governor Isaac Stevens, the treaty preserved Indian fishing rights, but took away prime Nisqually farm land. Leschi, chosen to negotiate the treaty with Stevens, was outraged and chose to fight rather than give up his land. The fighting commenced in October 1855, when "Eaton's Rangers," a citizen militia under Captain Charles Eaton, were involved in a clash with Nisqually tribesmen. Two militiamen, Joseph Miller and Abram Benton Moses, were killed. Upon hearing the news, Governor Stevens immediately dispatched a company to locate Leschi and "escort" him back to Olympia.

The war itself consisted of a series of short skirmishes with relatively few deaths on either side. Notable battles occurred in present-day Tacoma, Seattle, and even as far east as Walla Walla. In particular, on October 28, 1855, a party of Muckleshoot killed eight settlers in what was later called the White River Massacre. Three children fled on foot to Seattle, but one five-year old boy was kidnapped and held by the Muckleshoot for six months before being released.

Leschi was captured in November 1856 and was forced to stand trial for the murder of Abram Benton Moses. His first trial resulted in a hung jury because of the question of the legitimacy of murder during wartime; the jury of twelve voted ten in favor, two opposed to conviction. Leschi was tried again in 1857. Despite vague witness accounts and issues over whether Leschi was actually at the scene of the incident, he was found guilty of murder. Leschi was hanged on February 19, 1858."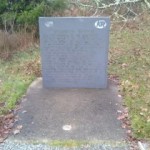 Approximately forty feet to the left of the historical marker was another marker of an entirely differenty type. This one, I read thoroughly several times and still didn't comprehent what it meant. It was quite wordy, so I had to record its prose in my cellphone so I could transcribe it later in this blog. It read:
"Willamette Meridian: You are standing on the Willamette Meridian, which is the principal survey line from which the rectangular surveys of Washington State were commenced. William Ives, deputy surveyor, commenced this survey of the Willamette Meridian from the initial point near Portland, Oregon, on June 4th, 1851. Passing this point on August 14th, 1851, he and his crew of five men surveyed the 110 miles from Portland to a point on Puget Sound 8 miles north of this point in 74 days, marking trees every half mile, many of these markings may be found to this day. Dedicated by the Land Surveyors Associaton of Washington on November 11, 1989, in commemoration of the Washington Centennial."
My guess is that it was sheer coincidence that Fort Eaton was built right on the Willamette Meridian, but nevertheless the two markers are withing mere feet of each other. I have to admit, it's fascinating to think that I play golf just a few thousand feet from a location that bears such historical significance. It forces me to stop and think every now and again, that the trivial problems I deal with every day…like waiting in traffic while construction crews continue to widen Yelm Highway, or wondering if the new structure next to the QFC is going to be a strip mall or something more useful…are nothing compared to the impending threat of Indian attacks or scientific exploration in its purest form.
There really is a lot more to learn about these issues, and I can't quite relay it all to you in the space of this blog entry. Click the links above to get the whole story about these things. In the meantime, I've got to get to bed. As I said earlier, we're flying to California in the morning and I've got to get up early.