Flag Day parade in Ocean Shores
You don't see a whole lot of Flag Day parades anymore these days. In fact, you'd be hard-pressed to find half a dozen people who even know what Flag Day is. For those still wondering, Flag Day is a United States commemorative day (not yet an official holiday) that falls every year on June 14, commemorating the adoption of the flag of the United States, which happened that day by resolution of the Second Continental Congress in 1777. The reason I remember that date every year is because it is also the anniversary of the birth of the United States Army, in which I served for eight years.
I think we often lose sight of the fact that even though the Declaration of Independence was signed by our nation's forefathers on July 4, 1776, the Revolutionary War that followed lasted until 1783 – some seven years after the "official" birth of our country. Our leaders knew it would take more than Minutemen and colonial farmer-soldiers to stand against the British forces for long, which is why in 1775 the US Continental Congress created the Continental Army on June 14, 1775, before the establishment of the United States. A later Congress of the Confederation officially created the United States Army on June 3, 1784, after the end of the Revolutionary War to replace the disbanded Continental Army. The Army considers itself to be descended from the Continental Army and thus dates its inception from the origins of that force.
In 1916, President Woodrow Wilson issued a proclamation that officially established June 14 as Flag Day, and in August 1949, National Flag Day was established by an Act of Congress. While Flag Day is not an official federal holiday, it is at the President's discretion to officially proclaim the observance. Perhaps the oldest continuing Flag Day parade is in Fairfield, Washington. Beginning in 1909 or 1910, Fairfield has held a parade every year since, with the possible exception of 1918, and celebrated the "Centennial" parade in 2010, along with some other commemorative events.
I was told that there was only one other Flag Day parade being held in Washington this year, and it happened to be in Ocean Shores, Washington (where my parents live) and my father just happened to be marching in it. In fact, he'd asked his fellow parade-participants if he could take his four-year-old son, Parker, with him. And they were delighted.
The weather cooperated nicely, which was a concern since it had been raining off and on for days leading up the the Saturday parade. The sun, however, brought a companion that made things a little dicey…the wind, which played havoc with the parade's banners and flags (of which there were many, being that it was a Flag Day parade). Nevertheless, the event began right at 11 am as scheduled, and my wife, mother and I took up a sidewalk position along Ocean Shores' main drag.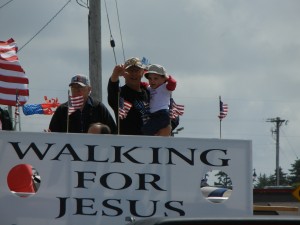 Though we expected Parker and Papa to be in one of the lead floats, it turned out that they were several floats back. Still, we spotted them right away as they made the turn from Point Brown Avenue onto Chance A La Mer. Their "float" consisted of a red Jeep Wrangler towing a trailered pontoon boat in which the group's "marchers" were actually hitching a ride. Affixed to the front of the boat was a giant banner which read, "Walking for Jesus," designating the men's devotional group. We found it a tad ironic that the banner read "walking" for Jesus when in fact all of them were more accurately "riding" for Jesus.
Parker was a champ, sitting high on the boat and waving to the crowds with one hand while the other attempted to keep his hat on his head. Once he spotted us in the crowd, he lit up like a Christmas tree and began shouting, "Hi Daddy! I'm in a parade!" We were so proud of him up there; such a big boy riding in his first parade. Oh yeah, and we were proud of my dad too.
The rest of the parade was fairly boilerplate, filled with a marching band or two, some high school drill teams, community organizations like the Lions, Eagles, Elks, and others, classic car owners, motorcyclists, police, fire and emergency service vehicles all blaring their horns and sirens, and more political candidates than I could count. And nearly every one of them was throwing candy into the crowd, a highlight which quickly became the sole purpose of the parade to Parker, who had finished the parade route and returned to us to watch the rest of it. I don't remember how many times I had to say, "Yes, Parker, there's more candy coming…now sit down and enjoy the parade!"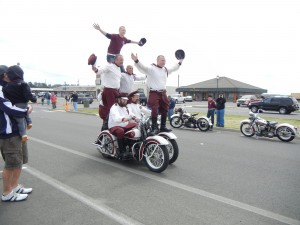 The final entry in the 2012 Ocean Shores Flag Day parade was a motorcycle stunt group out of Seattle called The Cossacks. While I have no idea if their heritage actually goes back to the Slavic military ethnic group, the talented individuals forming human pyramids on moving motorcycles were wearing black knee-high boots with baggy pants tucked in sure looked the part. And their motorcycle stunt skills were an impressive finale to the 2012 Flag Day parade in Ocean Shores. I look forward to seeing the parade again next year, and maybe even traveling to Fairfield to see the original.