Fish, fowl, fauna: American Expedition has it all
No offense, but Valentine's Day caters to the ladies. Just look around any store you've been in since Christmas…flowers, chocolate, hearts, champagne, stuffed animals, cards, jewelry, and more. But if you're looking for a unique, attractive and useful gift for your husband or boyfriend this Valentine's Day, look no further than gear from American Expedition.
That's not to say that ladies won't be interested in the vast collection of wildlife-adorned accoutrement. To the contrary, American Expedition has a great a selection of products for anyone. But since there are so many gift options for ladies already out there (and we've heard over and over that men are so hard to shop for), we'll focus on the fellas with these choices.
Let's face it…when it comes to "gear" your guy wants, chances are it's probably way too expensive and he'll probably only use it once or twice (seriously, does he really need crampons?). Get something he'll use every day and he'll appreciate the compliments from friends and coworkers.
Starting off the list of great-to-get items is the selection of big game drinkware – coffee mugs, tumblers, beer glasses, and more. Pick his favorite animal and narrow down the choices by beverage. Take, for example, this American-made Black Bear Neoprene steel travel mug that combines the excellent insulation and waterproof properties of neoprene wetsuit material with the function of a spill-proof stainless steel travel mug.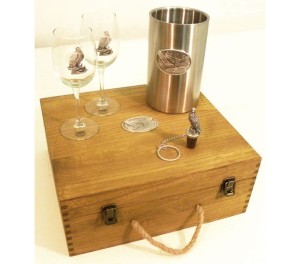 Another good drinkware choice for those fond of adult beverages is the Bald Eagle Wine Boxed Gift Set. This made-in-the-USA boxed wine set is perfect for any bald eagle admirer. The collectible set contains one stainless steel wine chiller, two 12-ounce glass wine goblets, and a bald eagle wine bottle stopper made of cast solid pewter with a synthetic cork that won't stain or crack. The glasses and chiller are embellished with a fine pewter casting and the stopper's chain can go around the bottle's neck.
While "fashion" may not be your guy's thing exactly, the title belies the cool stuff categorized under this heading. Everything from belt buckles to business card cases falls in this section, and again you can narrow down the choices based on favorite animal.
Take, for example, this stylish, quality crafted American deerskin wallet. It comes in tri-fold and bi-fold style and is certified wild U.S.A. leather. The inside of the flap is stamped "Certified North American Deerskin" and eco-friendly processing was used to create the item.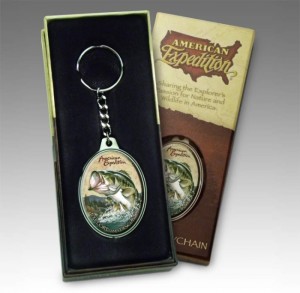 Or you can get him something in nice, full-color. The Metal Keychains are a great accessory for the modern-day explorer on the go. The keychain features a colorful design sealed in a durable acrylic coating.
Each keychain includes a custom-formed felt covered cavity insert nestled inside an attractive full-color "window" gift box. The reverse features the engraved quote, "Do not simply travel the path that has been laid out before you. Seek new paths, the ones less traveled. It is on these adventures that you will discover life's possibilities are endless."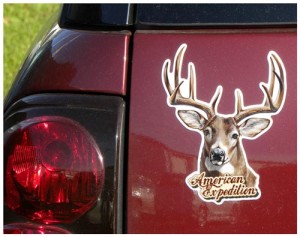 A guy's car is often an extension of himself, so why not get him something that he can use to show – on his car – what he loves to do on weekends? Check out the size of these brand new Wildlife Car, Truck, & Gun Safe Magnets that can be used on any metal surface.
The backside of each magnet is laminated to protect the finish on your vehicle's painted surface. The full-color printing is U.V. protected to help prevent fading in direct sunlight, giving the magnet years of use. Each magnet is powerfully magnetized to ensure great adherence, even at high speeds. Each magnet measures approximately 5″x5.75″and of course they're made in the U.S.A.
What selection of products would be complete without a convenient, pre-arranged set of gifts ready to be purchased, packaged and placed in your loved one's hands? For the birder in your life, you can't find much better than the Vintage Bird Coffee Mug Tree Gift Set.
This rustic coffee or tea mug tree set is a great item for the cabin or kitchen of any outdoor enthusiast. Each mug tree is made from stained wood and uses four rustic barn nails for the pegs. The bottom of the wooden base features four skid-proof rubber feet. Set includes the mug tree and four American Expedition stoneware coffee mugs: the Northern Cardinal, Ruby Throated Hummingbird, Eastern Bluebird, and American Goldfinch.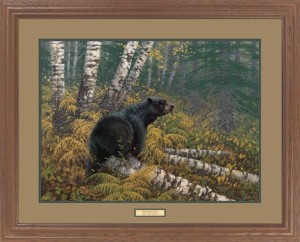 Anything a wife or girlfriend does to help a man create his man-cave pays dividends beyond just gift-giving. So why not shop the American Expedition collection of fine art, rustic signs and decorative wall hangings?
This Framed Wildlife Art Print of a Black Bear is absolutely breathtaking. This widlife art print measures 17″ by 23″, with frame 25″ by 31″. Each wildlife picture is framed with a 2″ light oak-finish moulding and is double matted with a tan outer mat and high quality brass nameplate.
Guys love gift certificates and – generally speaking – don't care about their perceived impersonality. If you simply can't pick which item your guy will like best for Valentine's Day (or President's Day, or Earth Day, or Father's Day, or even Arbor Day for that matter), order a gift certificate in the amounts of $10, $25, $50, $75, or $100.
American Expedition items allow wildlife enthusiasts to commemorate and share their passion for America's wildlife through the items they use in their daily lives. They carefully select high-quality products that have both functional and aesthetic appeal. Then, with the help of talented illustrators and designers, they develop original artwork that transforms these items into meaningful wildlife gifts and décor. Everything they produce requires tremendous quality illustrations, creative design development, and a thorough review process before it earns the right to bear the name, American Expedition.
When you pick up an American Expedition item, you are not just holding a high-quality functional daily-use item… you are holding an experience; an adventure of exploring and discovering the amazing wonders of America's wildlife, right in the palm of your hand!