Easy week in eastern Washington, Part 2: Be nice or leave
One of the nicest things about going on a fishing trip is that you don't have to get up early to do it. In fact, you can sleep in as long as you like – which is exactly what we did the morning our adventure began. After all, we weren't on a schedule, the fish weren't going anywhere and Linda Hartman makes some of the best hearty breakfasts I've ever had. Dad and Lyn have been doing this for as long as I can remember and said they used to get up at the crack of dawn to get the fish early. Apparently all that resulted in was catching their daily limit way too early and having nothing to do the rest of the day. If that's the only problem you have fishing, consider yourself one of the lucky ones.
That morning, Linda made more bacon than I've ever seen in one place, plus a breakfast quiche, freshly-squeezed tomato juice, coffee, toast, and just about anything else you could imagine. After taking our time, we said our goodbyes and hit the road, Lyn and I in his RV and my dad trailing in the MDX hauling the boat. We made a few quick stops for gas and snacks before taking the 395 north toward Kettle Falls.
Home of the Grouch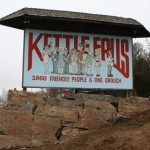 Incidentally, Kettle Falls is one of my favorite towns in Washington. Not only are its origins steeped in history but it also claims one of those quirky, Washingtonian oddities I mentioned in Part I of this article. Driving into Kettle Falls you'll pass an unmistakable sign that reads, "Kettle Falls: 1660 Friendly People and One Grouch." The number of friendly people has fluctuated by about a hundred or so over the past few decades, but the number of grouches has always remained the same. One. In fact, the Town Grouch is a position appointed to the winner of a fundraising competition. Every grouch candidate campaigns for quarters donated by the community. The candidate with the most quarters is declared "The Grouch" at their summer festival, Town and Country Days.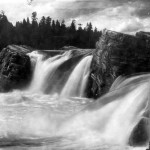 Another fascinating aspect of Kettle Falls is there are no actual "falls" located in or around the town of Kettle Falls. Sure there used to be, but the ancient falls were forever submerged once Grand Coulee Dam was completed in 1941 and Lake Roosevelt was created where the Columbia River once flowed. Native Americans from around the inland northwest area would gather at the falls to fish and hold potlatches (gift-giving festivals practiced by indigenous peoples of the Pacific Northwest Coast of Canada and United States). The original town of Kettle Falls was officially incorporated on December 17, 1891, on the bank of the Columbia, but city planners relocated the town to its present site (usurping a community called Meyers Falls) near the railroad lines in 1940, helping to ensure its success as a trans-shipment point for the logging, agriculture and paper industries.
Hartman's Log Cabin Resort
Once across the Columbia at Kettle Falls, we headed south along the river (Lake Roosevelt) to Inchelium, a tiny but growing Indian community. We then headed west on Bridge Creek/Twin Lakes Road/County Highway 2 until we reached Tavern Intersection. Okay, it's not really called that but you simply can't miss the turn onto Stranger Creek-Twin Lakes Road. As you can see from the Google image, the only landmark at that location is…well, a tavern marked with giant letters. Following Twin Lakes Road will lead you right past the north lake and to the south lake, where the entrance to Hartman's Log Cabin Resort is announced by a decades-old 7-Up advertisement.
Pulling right up to the shop/office/restaurant at the heart of the resort, you'll see a sign affixed to the building nestled in with the rusty, antique tools and equipment. The sign, which has been there for as long as I can remember, is painted an earthy green, white and brown and nicely compliments the brown wood paneling and contrasts with the grayed natural wood exterior. It reads, "BE NICE OR LEAVE – HARTMAN'S LOG CABIN RESORT" and very succinctly sums up the wishes of the owners, Bob and Lorna, who are among the more pleasant residents of the greater Twin Lakes area. After greetings and catching up with Lorna (Lyn's sister), we purchased our three-day tribal fishing licenses and parked the RV, eager to get the boat out on the water.
Wildlife, Junk Food and Snoring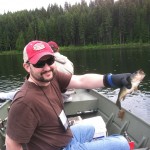 As anyone who has ever undertaken a "guy's" trip can attest to, while the camaraderie is often revitalizing and entertaining it can also be…well, frankly gross. But that's all part of the fun. Conversations are often steered toward the basest level and there is never a shortage of spitting, scratching or snoring. We began our three-day fishing trip by getting the boat launched as soon as possible and motoring across the south lake to our favorite spots to get our lines in the water. Shortly afterward, the bass began hitting.
During our stay at Hartman's, we ate at the resort's restaurant (which is famous for it's "Moose" breakfast) and indulged in just about every kind of junk food imaginable. Personally, my vices were Spitz sunflower seeds, peanuts, bacon, beer, cheese and crackers, pickles, bratwurst, whiskey, my wife's homemade chocolate chip cookies, and store-bought Oreos. My dad and Lyn also indulged in Linda's homemade pickled eggs as well as a few other things, but the bottom line of all this is that my waistline and I had a serious discussion by the end of day three. The good news is we reached a suitable compromise. My arteries threatened to kill me at any time without warning, and I promised to spend the next 362 days convincing them not to.
Over the course of the next few days we were treated to plenty of wildlife viewing. Chipmunks, ravens and sparrows were extremely common, but so were the osprey, herons and bald eagles. We spotted several deer during our stay, including one who came down to the water's edge to eat, drink and bathe while we were fishing about fifty yards off shore. He obviously didn't mind our presence on his lake and we certainly appreciated his. I spotted a baby beaver just before it ducked back into its dam, and one evening we happened upon more turtles than we could count before they slipped off their sunning log and disappeared below the surface one by one.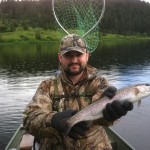 Perhaps the most impressive wildlife we spotted happened by chance while we were trout fishing on Lake Bourgeau. Just after we made our second trolling pass across the lake I said aloud to no one in particular, "The only thing that could make this trip better would be to see a bear. Seeing that would cement this trip in place on my all-time great vacation list." Not ten minutes later, as dad was reeling in his fourth trout of the day and I was taking a moment to reflect on the peaceful solitude of Bourgeau, there it was. Off in the distance, perhaps two-thirds of the way up the hillside, I saw what I thought was yet another stump begin to slowly move north across the landscape. You can see the hillside to the left of Lyn's "photobomb net" in the picture.
See, I'd been on a constant lookout for bear since we hit Colville, being that there are hundreds of them in north-eastern Washington and my dad and Lyn have told stories about bear invading the dumpsters at the resort during their past visits. Each time we'd pass a meadow or a thinly-forested area, I'd quickly scan for bears. I spotted more bear-looking stumps than I could count, but no luck with the elusive giant. Until now.
I brought the binoculars to my eyes and focused in on the area where I saw the brown figure meandering across the slope. Just as my focus sharpened, I spotted two cubs trailing playfully along behind. At first, I wasn't entirely sure that I was seeing what I thought I was seeing so I asked dad to verify it for me. Sure enough, it was a mother cinnamon black bear and her two cubs looking for food. We watched them for about five minutes until they disappeared behind the treeline to the north. It wasn't until we were pulling the boat out of Bourgeau that I estimated their travel time, distance and direction to be about where our car was at that very moment. We were not, however, treated to a close-up view of the beasts, and instead left the lake with the satisfaction of having seen one of the more impressive members of Washington State's wildlife repertoire.
Dirty Work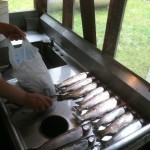 This section will be brief and creatively edited for the weak of stomach. Catching the fish is the fun part. Cleaning the fish separates the men (and women) from the boys (and girls). Each night after catching our limit it was necessary to gut, clean and freeze the day's haul. With a limit of 15 bass and five trout per person, per day, we'd often spend our evenings in the stink shack (my clever name for the fish cleaning station) hunched over the inverted carcasses of 45 bass and 15 trout.
There are numerous ways to fillet a bass and gut a trout and no one way is better than another, but Lyn's method has been honed down to almost a science. With the introduction of the electric fillet knife that my dad bought him for Christmas last year, it made the process even faster. The learning curve with an electric knife isn't very forgiving and the three of us accidentally mutilated a few of our specimens before finding the right angle and pressure to get a clean cut. Once we did though, it was smooth sailing. Oh, and Lyn had us freeze all the egg sacs we found so he could eat them later. Oops! Sorry, weak-stomached folks.
But Mom, It's Tradition!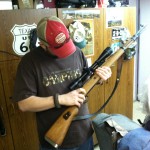 After cleaning up the RV and heading back to Colville, we spent the following day exercising our Second Amendment rights. There's really nothing quite like turning  a solid piece of basalt rock into gravel from 50 yards with a 500-grain custom made .45-70 Government cartridge. I was brought up in a family that didn't use guns. In fact my mother is adamantly opposed to guns, for whatever reason. But most folks in eastern Washington don't have an aversion to firearms, especially when your family and livelihood is constantly being threatened by wolves, cougar, bear, and meth addicts. So after three days of guy-time, we put the finishing touches on the trip by doing some target practice at a private rifle range.
In a previous blog post, I made my feelings about hunting known publicly. Since that time, Lyn had offered to loan me a rifle to hunt with this season and was going to let me use his Mauser K-98 8mm. Having just finished Teddy Roosevelt's book, The Rough Riders, I wanted to get up close and personal with the rifle used by the Spanish snipers in Cuba during the Spanish-American war (that's the Mauser in the photo). It was a nice weapon to fire but surprisingly heavy, and since Lyn wasn't able to modify the bolt to accommodate the large scope he'd attached to it, he instead loaned me his black, single-shot .45-70 Government with a synthetic stock and sling. I couldn't have been more pleased, as the .45-70 is one of my favorite weapons to fire. Hopefully, I'll be blogging about it's effectiveness later this fall.
With the fish having been caught, the bullets having been fired and the friendships having been rekindled, we finally had to say our goodbyes and hit the road bound for home. It was another spectacular vacation and a wonderful way to recharge the ol' batteries, and I'm already looking forward to doing it again next year.
(Back to Easy week in eastern Washington, Part 1: The roads less traveled)