Easy week in eastern Washington, Part 1: The roads less traveled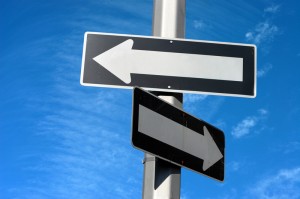 My father, Walt Ebel, and I began our second annual trip to the Colville Indian Reservation on a Monday in early June. Dad's been doing this for decades; he visits his best friend, Lyn, and they spend a week on Twin Lakes at Hartman's Log Cabin Resort near Inchelium. Last year I decided to finally accept their invitation and had such a good time I wanted to make it an annual part of my summer as well. I even posted a blog about it here at Washington, Our Home.
This year was no different. My dad and I had set the date months in advance (assuming the legislative session didn't run too long this year and force us to postpone the trip like it did last year) and the day finally arrived when I kissed my wonderful wife and son goodbye and headed off to eastern Washington. Only this year, dad and I decided to make the trip a little more scenic and less predictable by taking a different route to Colville. Rather than the usual I-5 to 18 to I-90 to 395 slog, we found a different route that would take us along some of the less traveled roads in Washington state…the sometimes forgotten but picturesque routes through towns like Ephrata, Coulee City, Wilbur, and Rice. Yes, Rice (I wouldn't have believed it until I saw it either).
We left Lacey by 9:30 Monday morning and headed north on I-5 until we got to the 512 interchange in Lakewood. From there we headed east toward Puyallup, and the mountain was out in spectacular form. It was a beautiful, clear day with just a few cotton-ball clouds, a slight cool breeze and temperatures in the upper 60's to low 70's. Following the 512, we merged onto the 167 north until it merged with the 18, a well-known cutoff to folks in the South Sound area who are headed across the mountains and don't want to head all the way into Seattle to get on I-90.
The I-90 leg was pretty routine, save for a few stops in North Bend to stock up on snacks (always one of my favorites, especially with Mt. Si standing guard over the Cascade foothills) and Ryegrass to use the rest stop and switch drivers. I have to add that Cle Elum is one of the most beautiful locations in Washington State, and I would seriously consider moving the family there one day should the opportunity arise.
The Cle Elum River winds lazily toward the upper Yakima River and the location is ideal for any Washingtonian. Cle Elum is an hour and a half from Seattle, one hour from Yakima, half an hour to Ellensburg, is nestled right at the doorstep of the Cascade mountain range, and holds promise for nearly anyone with a passion for the outdoors.
Soap Lake
Just past George, Washington (another of those quirky things we Washington residents enjoy about living here), we left I-90 and took the 283 northeast, then along the 28 through Ephrata (where we stopped for gas and restrooms again). Eventually, that took us along Soap Lake. You might remember a previous blog post about a proposal to rename Soap Lake. Anyway, we shot this video along the side of Highway 28:
The Native Americans (who called it Lake Smokiam, though translation of that word either references sunflowers or the alkali in the lake) and early settlers saw that the edges of the lake would often become frothy and they noticed that the water was slippery to the touch. For that reason, the settlers called it Soap Lake and proceeded to build an entire tourism industry by billing the lake as having "healing properties." I'm afraid I can't attest to that claim, but the lake water did dry out my skin for two days. I supposed if I was afflicted with "significantly oily skin" back in the early 1900's, a dip in Soap Lake may have been just what the doctor ordered. On to Dry Falls in Sun Lakes-Dry Falls State Park.
Dry Falls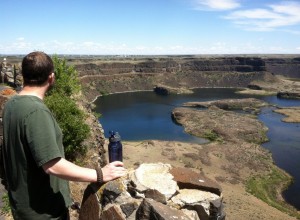 If you've lived in Washington as long as I have and have never seen Dry Falls with your own eyes, you really should take a trip. As residents of this geologically unique terrain we should all be required to take a short course in glaciology, the study of ancient glacial activity and its effects on the landscape. From the website:
"Sun Lakes-Dry Falls State Park is a 4,027-acre camping park with 73,640 feet of freshwater shoreline at the foot of Dry Falls. Dry Falls is one of the great geological wonders of North America. Carved by Ice Age floods that long ago disappeared, the former waterfall is now a stark cliff, 400 feet high and 3.5 miles wide. In its heyday, the waterfall was four times the size of Niagara Falls. Today it overlooks a desert oasis filled with lakes and abundant wildlife."
Dad and I made several stops along the side of the road to snap pictures as we ascended Highway 17 along the northwestern ridge of the Dry Falls Heritage Area. We stopped at the Dry Falls Interpretive Center, a must-see if you're passing by the geologic wonder. Coupled with an unrivaled view of the massive canyon is a unique and thoroughly interesting visitor center complete with educational theater and gift shop. Additionally, it may be the only place you'll find a bar of cell service for a few dozen miles.
Inside the interpretive center is a hands-on relief map of the area, a series of vivid display panels detailing how the terrain came to be, and dozens of fossils of prehistoric animals found in the lowlands – including the skull of a sabre-tooth tiger. Yeah. Forget about coyotes and rattlesnakes…imagine crossing central Washington on foot with packs of 8-foot-long, quarter-ton, dagger-wielding cats roaming about. Remember, there were humans here 12,000 years ago and some of them likely came face-to-face with these monsters.
High School Football Country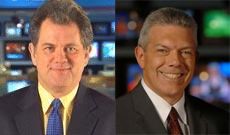 The next leg of our trip took us over the Dry Falls Dam, east along Highway 2 and through what I call "high-school football" country. See, I grew up in Spokane and worked at KXLY-TV for much of the 1990's. At the time we had a locally-produced program called "Friday Night Football" with hosts Dennis Patchin and Rick Lukens. My job for those broadcasts was to gather scores from around the region so our esteemed talent could update our viewers. As my dad and I drove through this area of east-central Washington, I couldn't help thinking about how many times I'd written down high school football scores for Almira-Coulee-Hartline, Wilbur-Creston, Davenport, Reardan, and others. Anyway I finally got to see most of those places firsthand. I remeber thinking that it would be easy to let a little town in the middle of nowhere turn into a dump but the folks who lived there were clearly proud of their rural communities. Each small town was immaculately clean and on that particularly nice day they made a positive impression on at least one traveler.
One other note. I didn't realize it at the time but there are at least two old missle silos leftover from the cold war "hidden" along this route. I put hidden in quotes because it wasn't until I was putting this blog post together and looking at a Google map of the area that I saw they were clearly marked. If I'd known of their existance at the time I may have pursuaded dad to make a few extra turns to have a look-see for ourselves. You can find the sites we passed here and here. There's even a website devoted to their existence, presumably maintained by members of nearby Fairchild Air Force Base…www.atlasmissilesilo.com. I learn something new about Washington every day.
Fort Spokane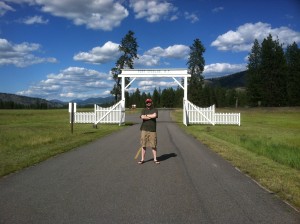 After turning north onto Highway 25 in Davenport and heading north for about half an hour, we reached a location historically significant to Washington State History. At the confluence of the Spokane and Columbia Rivers is the site of Fort Spokane (Camp Spokane in 1880, then fomally established as Fort Spokane by President Chester A. Arthur in 1882). Fort Spokane was the U.S. Army's last frontier outpost in the northwest, and was constructed to create a barrier between the the Colville and Spokane Indians on reservations north and west of the rivers, and remove them from the fertile farmland to the southeast, around the developing cities of Spokane (then called Spokane Falls) and Cheney. There were no skirmishes of note and as the number of settlers increased, the vastly outnumbered Indians were no longer considered a threat. When the Spanish-American War broke out in 1898, virtually all the troops were pulled out for duty elsewhere.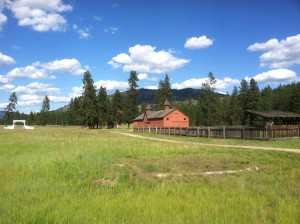 After its soldier population dwindled, custody of the fort was left to the Colville Indian Agency. It became a boarding school for Native American children to learn the customs and culture of the settlers in the hopes that they would better acclimate into the burgeoning Anglo-American society. Later, the fort was converted into a tuberculosis sanatorium before it was abandoned completely in 1929. The National Park Service eventually took over the site, on which only four of the original buildings remain.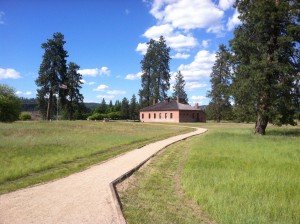 The first building you see as you enter the gates (which are inscribed with "Fort Spokane, W.T. 1880" with the W.T. standing for Washington Territory) is the stable. A long rectangular building with a pair of cupolas at the top, it is situated at the northern point of a large fenced-in area no doubt meant for horses and cattle. A quick paved loop takes you around the old quartermaster storage areas (which are really just holes in the ground) and past the quartermaster's building which is now the visitor center and gift shop. Had we more time, I would have loved to learn more about the history of the fort and will hopefully be afforded the opportunity to do a more in-depth blog entry or video about it in the future. (NOTE: I added the link after writing a blog post about Fort Spokane years later).
At last…Colville
We crossed the Columbia River and continued north on Highway 25 through the Spokane Indian Reservation. We passed through Fruitland, Hunters, Cedonia, Gifford (where the Gifford Ferry crosses the Columbia River to Inchelium), and finally Rice. I'd never heard of Rice, Washington, but now I've seen the post office so I know it exists. We turned east and took the Orin Rice Road through a few foothills until it finally spit us out just south of Colville. That was our final destination and so, tired and hungry, we trudged into Lyn's house where his wife, Linda, had prepared the traditional feast of all the fried bass you could ask for. It was delicious.
Satiated, we sacked out early. After all, the following morning we were poised to begin a three-day marathon of bass and trout fishing.
Next up…Easy week in eastern Washington, Part 2: Be nice or leave.