Ascending Saint Helens, Part 1 of 4: Gaining in elevation
It was early February of this year when I decided I was going to climb Washington State's Mt. Saint Helens and peer into the mile-wide crater of the active volcano. As a native Washingtonian, summiting every snowcapped peak in the state had been on my bucket list for longer than I can remember. Years ago, I asked my father – another native Washingtonian with a love for the outdoors – to join me in climbing Mt. Rainier.
At 63, he decided that a two-day technical climb like that was (after a generous amount of pleading from my mother) simply out of the realm of possibility for a retiree with a history of knee, hip and back issues. However, after I downgraded my request from Mt. Rainier to Mt. Saint Helens – a reduction in elevation of about 6,000 vertical feet – he ignored my mother's pleas for better judgment and agreed to attempt the ancient volcano with me on the anniversary of his late father's birth, August 22nd.
Immediately after we purchased our climbing permits, Dad and I began training. A fairly fit 36-year-old, I started walking to work and jogging more frequently to build up my endurance and Dad, living in Ocean Shores, WA, was eventually able to hike more than half a dozen miles at a time, albeit on flat ground. Knowing we could make the distance (St. Helens is roughly five miles up and five miles back and is usually done in one day), our only major remaining challenge was to try a vertical hike of some difficulty.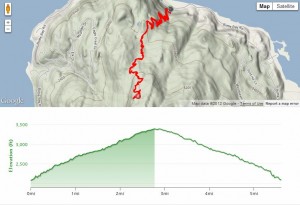 So in late July, we took advantage of a family reunion in Sandpoint, ID, on Lake Pend Oreille, and began a challenging three-mile hike up Gold Hill's nearly 1,400 feet…a far cry from Saint Helens' Monitor Ridge Route from Climbers Bivouac, which gains 4,500 feet, but a challenge nonetheless.
After a hearty breakfast, we made our way to the Gold Hill trailhead and started up the series of switchbacks. The first mile or so was comprised of thick, green forest that belied the typical dry summers of north Idaho. Switchback after steep switchback, we took rests whenever necessary and frequent water breaks for hydration.  A little more than a mile into the hike, the parade of switchbacks gave way to a gentler incline allowing us more time to appreciate breathing in the fresh air and listening to the sounds of the early morning forest.

As we approached the apex of the trail, I could see immediately that we were in store for something spectacular. The view of Sandpoint and Lake Pend Oreille was absolutely breathtaking, and on such a clear day you could almost see back in to Washington. I had to take a panoramic photo of the entire scene, which I later learned would be framed and hung on the wall at my parents' condo clubhouse in Sandpoint. I also made a point to get some photos of my Hi-Tec Sierra Lite I WP hiking boots that carried me to the top. After all, if it weren't for them I likely wouldn't have even been up there.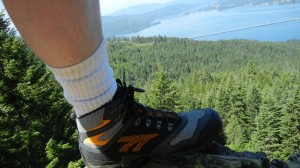 In the interest of full disclosure, I should state for the record that I won the boots in a Facebook contest almost the same time as I purchased my climbing permits for Mt. Saint Helens. To me, it was a clear sign from God (or at least the good people at Hi-Tec) that I was destined to ascend the mountain and thus begin checking off items on my bucket list. Though I was told these blog entries need not mention the boots, I have to admit that the boots were integral to my success.
Having spent the better part of an hour overlooking the lake, snapping photos and videos and snacking on a few trail bars my brother, Matthew, brought along, we headed back down toward the car. It was obviously an easier journey, but I was struck by the comments my father and brother were making as we neared the bottom of the trail. They're feet were beginning to hurt. My dad had his new Merrell's that were well broken-in by that point, and my brother had boots from REI. I found myself sympathizing with their foot-related complaints but secretly smiling at not sharing in their discomfort. The difference was the boots, and that's when I knew that if there were any problems to be had while climbing Mt. Saint Helens with my dad, they wouldn't come from my footwear.
CONTINUE…Ascending Saint Helens, Part 2 of 4: Rock-hopping at the jetty