A well-deserved break for our heroes
One of Washington's jewels is our state park system.  Yes, it is expensive to run, and goodness knows the political shenanigans that take place to keep it alive.  But… if you look around our state, we have some pretty awesome parks within reach of almost everyone in the state.  It is well worth the cost of an annual Discover Pass for you and your family to enjoy these gifts.  End of sermon!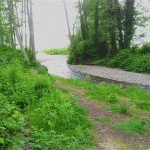 We recently visited Belfair State Park, near the town of … BELFAIR, Washington (duh!), about 15 miles west of Bremerton.  The park sits along the shore of Hood Canal and has two active salmon breeding rivers/creeks (depending on the rains) flowing through the park into the canal.  I have a vivid memory of watching a school of chum salmon beating themselves into a frenzy trying to get up both rivers back in 1987.  However, during our recent visit it wasn't salmon running season yet, and the rivers hadn't had any rain in a while. They were instead reduced to 'creek-size' meanderings through the park on their way to the canal.
BELFAIR STATE PARK
I was impressed with the entry to the park.  The "welcome booth" was unmanned when we arrived at about 6 pm, so we parked at a nearby comfort station to find out how to register  (since we are retired and can camp mid-week, we usually don't spend the extra $6 on online registration).  The posted instructions were very clear, and we had no trouble using our Visa card to pay for a two-night stay using the handy yellow phone attached to the wall of the booth.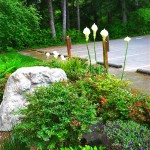 Since we had driven for a couple of hours to get there, we decided to use the comfort station before setting up our camp.  This is a picture of what we found growing in front of the beautifully decorated and maintained comfort station! Interestingly, the boulder was made of RESIN!  Much easier for changing your gardening plan, and an idea I might copy!  I hadn't seen bear grass in a while, so we HAD to take a few close ups.
The park had several beautiful walking trails, all with wheelchair access.  They either meandered through the forest or they wandered along the beach! We saw lots of wildlife.  Two eagles sat on the beach in front of our campsite, waiting for the canal to present them with a meal.  We saw one of them fly over our heads with some lunch dangling from its talons, being chased by several crows.  It landed in a tree about 100 feet in front of us to finish its snack and then flew off, all the while being pestered by the hungry crows, looking for a handout.
HEROES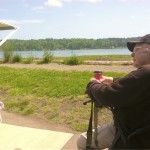 During our stay, we took a side trip to the Washington Veterans Home in Retsil, Washington, near Port Orchard, to pick up my wife's uncle Verne for the day.  We took Verne out to the park with us and he enjoyed a lunch around the campfire, a walk along the beach, and visiting with another hero who just happened to be camping across the loop from our site.
Uncle Verne is a WWII Army combat veteran who served as a medic during the Normandy invasion, and in France in 1944-45. Our camp neighbor was an Army combat veteran who lost the lower portion of both legs to an IED in Iraq in 2004. It was an honor to share the campground with both of these heroes, who have gone on the lead productive lives and given so much to our country.  If you get a chance, thank a veteran for his/her service.
Our visit to Belfair State Park was very enjoyable.  The campground and picnic area are beautiful, clean, well maintained, and very accessible.  My hat is off to the crew that keeps it this way.  I'm looking forward to our next visit, hopefully later this summer.  Better yet, during the next salmon run!